On Saturday afternoon, a man named Mamoudou Gassama climbed the facade of a building in Paris to save a 4-year-old boy dangling from the 5th floor of a balcony. In less than a minute, the man became like a real-life Spiderman.
The video posted on Facebook – originally shared on Sanpchat – showed how Gassama saved the life of the little kid. The video now had more than 6 million views.
Quel courage .. bravo à ce jeune du 18eme pour cet acte héroïque 👏🏼

Posted by Habib Bibou on Saturday, 26 May 2018
As you can see in the video, Gassama did not hesitate to take the fastest way. He used his bare hands to climb the facade of the building, quickly making his way up.
"We came here to watch the game at the Greek restaurant, I saw a lot of people screaming, cars honking, I went out, I looked at the child who was going to fall from the balcony, " Gassama said in an interview on BFM TV.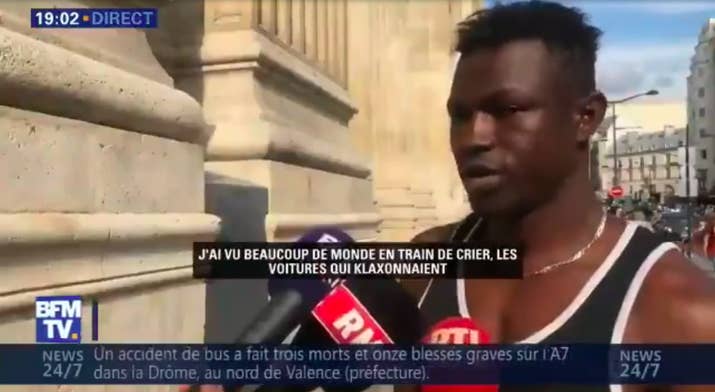 "I climbed on the balcony, I climbed on the door, I got to catch the balcony upstairs, I climbed like this, and thank God I saved it," the 22-year-old Gassama said, who had just arrived in Paris from Mali a few months ago, and has now has become a superhero.
The mayor of Paris, Anne Hidalgo, praised and called him the "Spiderman of the 18th," a reference to the district within Paris where the incident took place.
Cet homme aussi téméraire que courageux a sauvé la vie d'un enfant au péril de la sienne. Je souhaiterais, comme nombre de Parisiens, savoir qui est le Spiderman du 18ème pour le féliciter.
👉 https://t.co/nagKekpL9O

— Anne Hidalgo (@Anne_Hidalgo) May 27, 2018
Hidalgo also tweeted that the City of Paris would "obviously want to support him in his steps to settle in France."
Il m'a expliqué être arrivé du Mali il y a quelques mois en rêvant de construire sa vie ici. Je lui ai répondu que son geste héroïque est un exemple pour tous les citoyens et que la Ville de Paris aura évidemment à coeur de le soutenir dans ses démarches pour s'établir en France.

— Anne Hidalgo (@Anne_Hidalgo) May 27, 2018
"He explained to me that he arrived from Mali a few months ago while dreaming of building his life here. I replied that his heroic gesture is an example for all citizens and that the City of Paris will obviously be keen to support him in his efforts to settle in France," as translated from French to English.