For almost three weeks now, the erupting Kilauea volcano has destroyed dozens of homes in Hawaii's Big Island and triggered hundreds of earthquakes. More than 1,800 residents in the communities of Leilani Estates and Lanipuna Gardens have been ordered to evacuate. There's still no indication when the eruption will stop.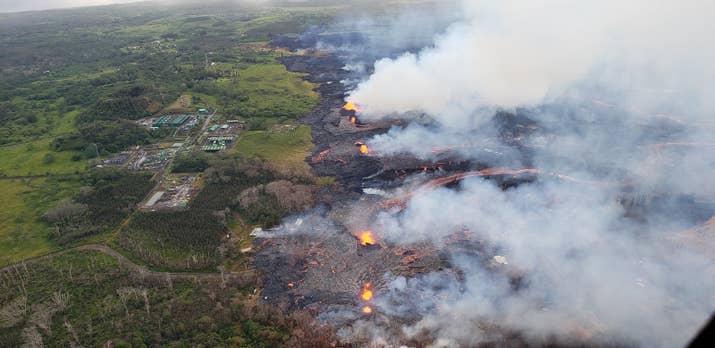 As if it couldn't get any worse…
US Geological Survey scientists have warned people near the active fissures on Kilauea's lower East Rift Zone to watch out for methane explosions. The methane gas has been created due to the burning vegetation trapped in the many cracks forming in the residential neighbourhoods of Leilani Estates and Lanipuna Gardens.
If you remember your high school chemistry class, the Bunsen burner used methane gas to produce a blue flame. This gas is highly flammable, so when methane interacts with the lava, it can possibly cause major explosions.
"If the methane gets trapped underground and it's ignited, it can cause a very large explosion that will throw rocks several meters away," volcanologist Wendy Stovall said.
On May 22, the US Geological Survey's Volcano Hazards Program posted a Facebook video around 11:30 pm local time, showing the methane flame in road cracks in the Leilani Estates Subdivisions.
Here is the actual footage:
Methane flames in road cracks in Leilani Estates Subdivision, May 22, 2018, ~11:30 PM HST.

The blue burning flames of methane gas were observed in the cracks on Kahukai Street, in the Leilani Estates Subdivision, on May 22, around 11:30 PM, HST. The view is to the southeast.When hot lava buries plants and shrubs, methane gas is produced as a byproduct of burning vegetation. Methane gas can seep into subsurface voids and explode when heated, or as shown in this video, emerge from cracks in the ground several feet away from the lava. When ignited, the methane produces a blue flame.Intermittent short bursts of methane are visible in the center area of the video. Lava fountaining is visible to the right and left sides of the video.Photos and videos are on the USGS–Hawaiian Volcano Observatory webpage at https://volcanoes.usgs.gov/volcanoes/kilauea/multimedia_chronology.html#usgs #hvo #hawaiianvolcanoobservatory #kilauea #volcano #KilaueaErupts #LERZeruption #LERZ #KilaueaEruption

Posted by USGS Volcanoes on Wednesday, 23 May 2018
"When hot lava buries plants and shrubs, methane gas is produced as a byproduct," the post explains. "Methane gas can seep into subsurface voids."
The lava from the erupting volcano is mixing into the ocean, creating dangerous gases…
The Hawaiian Volcano Observatory reported volcanic lava crossed Hawaii's highway 137 late Saturday, creating plumes of "laze" — a hazardous mix of gases and glass particles.
Entering the area is now prohibited and the residents were warned to stay away from any ocean plume "since it can change direction without warning," and the U.S. Coast Guard is enforcing a 300-meter "standoff zone."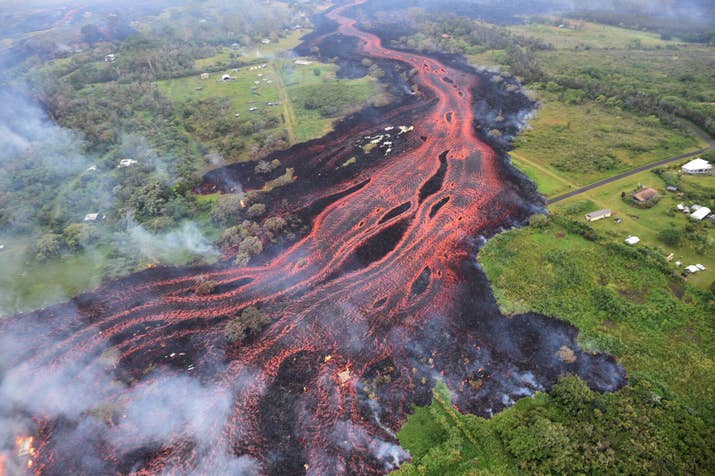 "Be aware of the laze hazard and stay away from any ocean plume," the Hawaii County Civil Defense Agency wrote on Facebook Sunday. Due to the hazard, sections of highway 137 are closed, as is all of Kamaili Road.
According to the USGS, "laze" forms through a series of chemical reactions as hot lava boils seawater to dryness. The plume is an irritating mixture of hydrochloric acid gas (HCl), steam, and tiny volcanic glass particles.
Those who have come in contact with the gas plume may experience eyes and skin irritation, as well as breathing difficulties. It can also be deadly. Laze killed at least two people in the year 2000.