An 8-month-old girl died on Wednesday after the family's male pit bull attacked her while she was playing in a bouncy chair. The baby girl was in the care of her grandmother during the attack, which happened around 11:30am, according to the police.
"The grandma was holding the dog after coming back inside and he overpowered her and went directly into the room where the child was bouncing and attacked her," Miramar Police Officer Yessenia Diaz said, calling the incident a "traumatizing tragedy not only for the family but for the officers on scene, as well."
According to Diaz, the injuries of the baby were "severe" and first responders declared her dead at the scene.
Brenda Villasin, the mother of the 8-month-old Liana Valino, drops off her daughter at the grandmother's home before she goes to work every day.
"She was the best thing to ever happen to me," Brenda said, "She was my world."
Landlord Alex Bernal said the family had been renting the home for about 18 months. He described them as "excellent tenants" and "very nice."
"They are excellent tenants," Bernal said. "They're a beautiful family. They always pay on time. They are very nice."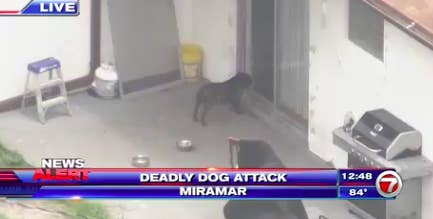 The family raised the male pit bull, which is about 3 or 4 years old now. The dog also has a female sibling and a mother, which were also kept by the family. All three dogs have been removed from the property on Wednesday afternoon.
"I don't know what the outcome will be of the dog [suspected in the attack]," Diaz said. "This is now a crime scene and our detectives are evaluating with the help of Broward County Animal Control."
There's still no immediate decision made about what to do with the pit bull.